Peppermint Patty
I was 10 years old when I got the lead role in the musical Annie. We were considered a touring company and started our run in San Francisco at the Curran Theatre. The story goes that Charles Schulz came to the opening night performance with his family. The next night, Lee Mendelson, the producer of Charlie Brown specials, came to see the show as well. One of them called the other to let them know that he had found the new Patty. The other informed him that No, I found the new Patty… and I was lucky enough to be who they were fighting over! It was an absolute joy to work with them. I did two specials, You're the Greatest, Charlie Brown and She's a Good Skate, Charlie Brown and a feature film, Bon Voyage Charlie Brown and Don't Come Back, which was released through Paramount Pictures. 
She's a Good Skate Charlie Brown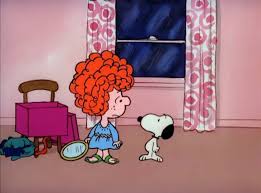 This is one of my favorite moments of this show. I first saw it while the animator was working on it in LA. I had come to the studio to do some overdubs and when I passed by I asked which show he was working on. When he told me She's a Good Skate, I said "oh, that's one of mine!" So he showed me what he was working on. It was this scene and when I saw the Red Wig come out of the box, my Mother and I just starting laughing! At his confused look, I said, "I'm Annie, that's why they added the red wig!" Just recently, I learned that the original comic that Schulz drew actually had Snoopy put an afro on her. So the red wig was an "inside" joke. I absolutely love that they did that!
I've got more stories to tell… so be sure to check back later!
2 Replies to "Peppermint Patty"
admin

October 30, 2015 (5:22 am)

If you love Peppermint Patty, be sure to Join the Newsletter and the Fan Club!

Tiffany

October 7, 2022 (7:56 pm)

She's A Good Skate Charlie Brown Was A Beautiful Special And I'm Happy That Patricia Patts Got The Role Of A Lifetime Meet Charles Schultz The Other Voice Over Stars Creators Plus The Folks Behind All The Songs Hoping To See Her Get More New Voice Over Roles Peppermint Patty Is My Favorite. Is She Your Favorite As Well?
---